The ILC is located in the lower level of the Learning Resource Center, in Rooms R105, R106 and R107. You can contact the ILC at 619-388-3535.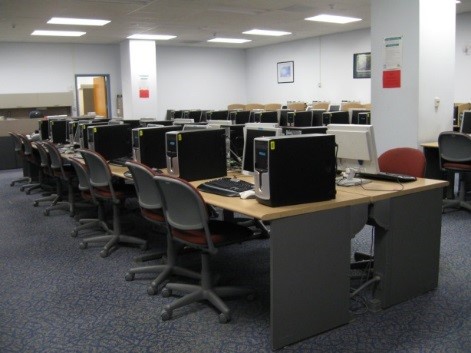 The ILC is available to students for computer use, online coursework, viewing materials and more! We have three computer labs that provide students with approximately 120 computer stations, including PCs, iMacs, and adaptive technology. Black & White and color printing is also available. In addition, we have a media collection accessible through audio/video viewing stations.
Basic technical assistance is available from the ILC staff. Help for personal devices is not available.
Please bring your student ID or CSID number to use the ILC resources.
RESOURCES
Available Software/Hardware
CLICK HERE for list of resources including adaptive software/hardware

Search the Instructional Media Collection
CLICK HERE to search in the instructional media collection.


PRINTING
NOTE: Printing system will be changing Summer 2019


ABOUT US
Our Faculty / Staff
Robbi Ewell
Dean, Information & Learning Technology
Don Long
ILC Faculty
Majeda Nasrawi
Instructional Support Supervisor
Megersa Bayisa
Instructional Lab Technician