Want to get your career off to a healthy start?
If you have a passion for health and fitness and want to share it with others, join the next cohort of fitness professionals at San Diego City College!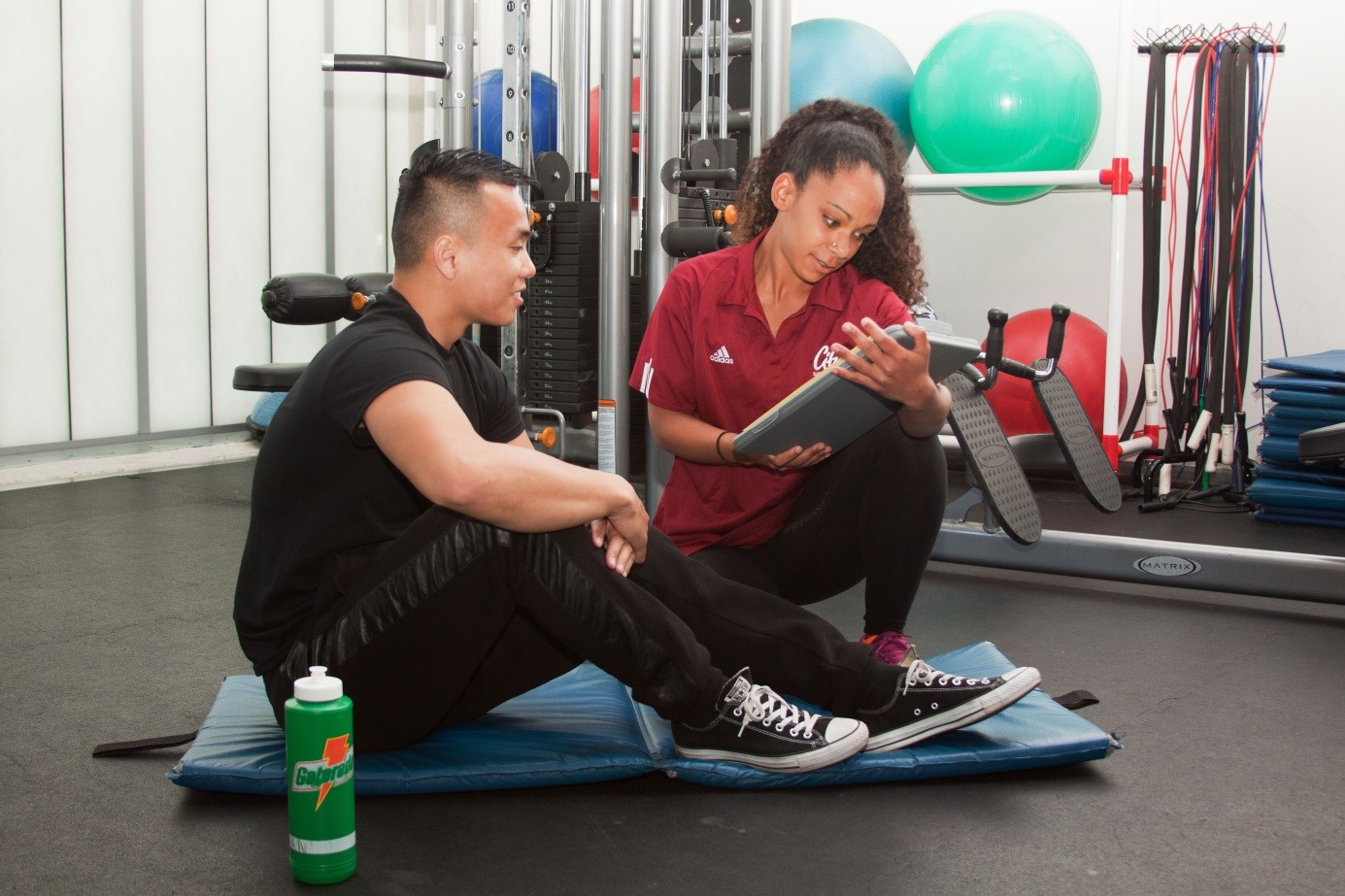 What is the Fitness Specialist Program?
The Fitness Specialist Program prepares students for immediate entry-level employment in the growing fitness industry, with the skills necessary to design and lead safe, effective, and creative individual and group exercise programs to meet the needs of a diverse population.
Program Highlights
It's fast! Complete the program in as little as 9 months (if you begin in the fall).
It's affordable! Most courses are only 2 units.
It's hands-on. Combines in-class learning with practical, hands-on experience in the field.
It's comprehensive. Prepares students for the American Council on Exercise (ACE), American College of Sports Medicine (ACSM), and other national certification exams.
Career Options
Graduates are qualified to be personal trainers, group fitness instructors, exercise testing technicians, strength training coaches, and fitness center and health club employees.
Please note that students enrolled in an occupational program must earn a grade of "C" or better in courses required for the major.
Occupational and Salary Outlook
The Regional Labor Market Assessment of San Diego County predicts a 21% increase in jobs for fitness workers between 2015 and 2020. This is an average of 233 yearly openings in San Diego.
Median hourly wages of fitness trainers and group exercise instructors in the San Diego County area is $20.62/hour or approximately $47,500 a year (based on 2015 wages). Self-employed trainers and those with advanced degrees can earn greater than $60,000 a year (American Council on Exercise Salary Report).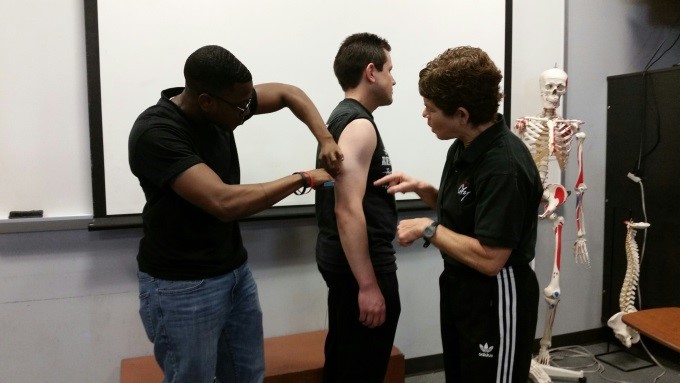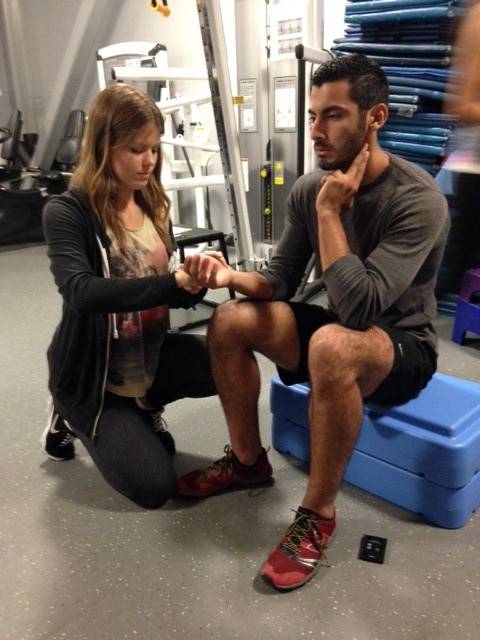 Certificate Of Achievement: Physical Education Fitness Specialist
| COURSES REQUIRED FOR THE MAJOR | UNITS |
| --- | --- |
| EXSC 242B Care and Prevention of Injuries | 3 |
| EXSC 280 Applied Exercise Physiology | 2 |
| EXSC 281 Applied Kinesiology | 2 |
| EXSC 282 Techniques of Weight Training | 2 |
| EXSC 283 Exercise and Fitness Assessment | 2 |
| EXSC 284 Fitness and Sports Nutrition | 2 |
| EXSC 285 Exercise for Special Populations | 2 |
| EXSC 286 Techniques of Exercise Leadership | 2 |
| EXSC 288 Fitness Specialist Internship Lecture | 1 |
| EXSC 270 Fitness Specialist Work Experience | 1-4 |
| | Total: 18 |
This program prepares candidates for American College of Sports Medicine (ACSM) or American Council of Exercise (ACE) certification exams.


Exercise Science (formerly Physical Education) Classes/Intercollegiate Sports Disclaimer
Participation in all sports and exercise science (formerly Physical Education) activities involves certain inherent risks. Risks may include, but are not limited to, neck and spinal injuries that may result in paralysis or brain injury, injury to bones, joints, ligaments, muscles, tendons and other aspects of the muscular skeleton system, and serious injury, or impairment, to other aspects of the body and general health, including death. The San Diego Community College District, its officers, agents and employees are not responsible for the inherent risks associated with participation in exercise science (formerly Physical Education) classes/intercollegiate sports.

Students are strongly advised to consult a physician prior to participating in any exercise science (formerly Physical Education) activity.
Program Outcomes
Outcome #1

Upon successful completion of the Fitness Specialist Program the student will be able to:

• Demonstrate the ability to prescribe safe and effective exercise

City College Institutional Priorities:

Student Success

,

City College Institutional Student Learning Outcomes:

Critical Thinking

,

Personal Responsibility

,

City College Mission:

Life-Long Learning

,

Technical Education

Outcome #2

Upon successful completion of the Fitness Specialist Program the student will be able to :
*Develop and implement group and individual exercise programs

City College Institutional Priorities:

Student Success

,

City College Institutional Student Learning Outcomes:

Communication/ Interpersonal Skills

,

Critical Thinking

,

Cultural Sensitivity/ Global Awareness

,

Personal Responsibility

,

City College Mission:

Life-Long Learning

,

Technical Education

Outcome #3

Upon successful completion of the Fitness Specialist Program the student will be able to :

Possess an applied understanding of human anatomy, physiology and nutrition as it applies to physical fitness

City College Institutional Priorities:

Student Success

,

City College Institutional Student Learning Outcomes:

Critical Thinking

,

Information Management/ Literacy

,

Personal Responsibility

,

City College Mission:

Life-Long Learning

Outcome #4

Upon successful completion of the Fitness Specialist Program the student will be able to :
* Develop specialized fitness programs to meet the needs of the targeted individual.

City College Institutional Priorities:

Collaborative & Outreach Ventures

,

Equity, Inclusiveness, and Diversity

,

Innovative Approaches

,

Student Success

,

City College Institutional Student Learning Outcomes:

Civic and Environmental Responsibility

,

Communication/ Interpersonal Skills

,

Critical Thinking

,

Cultural Sensitivity/ Global Awareness

,

Information Management/ Literacy

,

Personal Responsibility

,

City College Mission:

Community

,

Equity, Inclusiveness, & Diversity

,

Life-Long Learning

,

Quality

,

Technical Education

,

Transfer