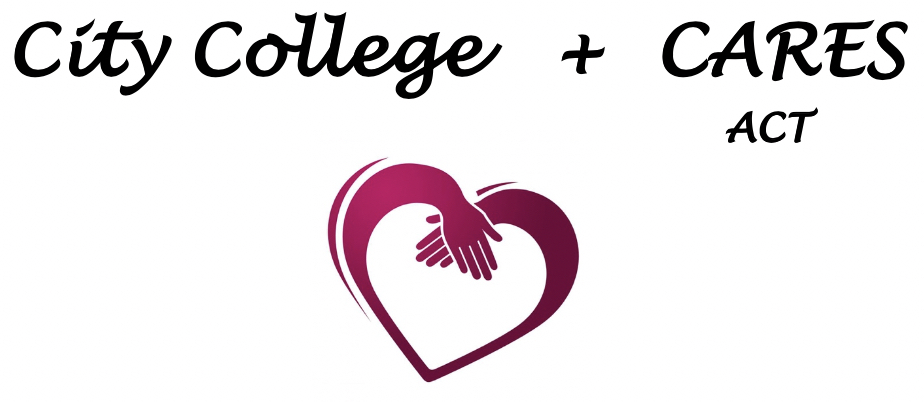 SPRING 2021 CARES ACT GRANT APPLICATION IS NOW CLOSED!
Through the Coronavirus Aid, Relief and Economic Security (CARES) Act, San Diego City College is able to offer financial assistance to students in need. The purpose of the funds is to award emergency financial aid grants to students for specific expenses that are a direct result of the disruption of campus operations due to COVID-19.
If you are a City College student eligible for financial aid, and the COVID-19 pandemic has negatively impacted your personal financial situation, you can apply to receive CARES ACT funds for qualified COVID-19 economic hardships.
Students must have applied for funds by Friday, March 12, 2021 at 5:00pm.
---
ELIGIBILITY REQUIREMENTS
You are eligible to receive funds if you meet the following requirements:
You are currently enrolled in Spring 2021 classes at City, Mesa, or Miramar.
You have experienced financial hardship due to extenuating circumstances.
---
QUALIFIED COVID-19 EXPENSES INCLUDE HARDSHIPS RELATED TO:
Food
Housing
Course Materials
Technology
Health Care
Child Care
Moving
Other Expenses Incurred

this Semester
---
ABOUT THE FUND
CARES Act funds are limited

This award is not a loan and does not have to be paid back

Funding from the CARES Act Grant will not impact the student's current financial aid package

CARES Act grants cannot be used to cover and satisfy a student's outstanding account balance. The student may use their emergency financial aid grant for expenses related to the disruption of campus operations due to coronavirus including, hardships related to food, housing, course materials, technology, health care, and childcare.
---
APPLICATION DEADLINE - Friday, March 12, 2021 at 5:00pm
Application will be reviewed starting March 15th. Please note that submitting an application does not guaranteee awarding of funds.
---
RECEIVING THE AWARD
Students can track the status of their request by clicking on the link in the confirmation email or visiting the mySDCCD Support Center.

Funds will be awarded by check and mailed to the student's current mailing address only. Please make sure your current MAILING address is correct in your mySDCCD.
---
QUESTIONS
ZOOM Video or Dial-In Service:
https://cccconfer.zoom.us/j/96254605145
+1 669 900 6833 (US Toll)
+1 346 248 7799 (US Toll)
+1 253 215 8782 (US Toll)
Meeting ID: 962 5460 5145
-or-
GOOGLE Voice: (619) 786-3203