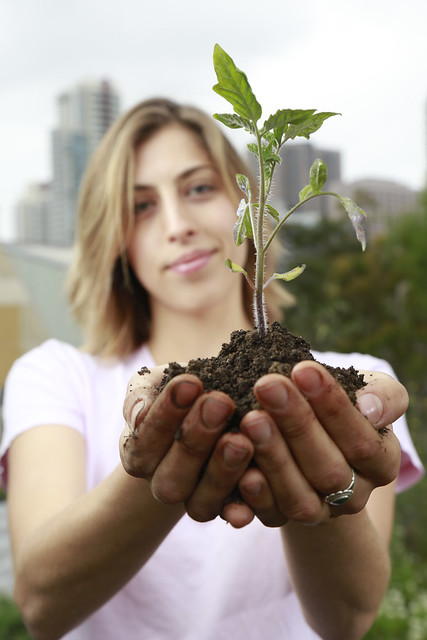 Are you interested in plants, sustainability, agriculture and the future of our food system? The sustainable urban agriculture program may be for you!
The agriculture program at City College offers students a unique learning experience unlike any other in Southern California. All agriculture classes combine hands-on experience on our 1-acre urban farm, Seeds@City, with classroom learning. This is the only program at a 2-year institution in Southern California offering laboratory experience on an operating production farm. Come grow with us and be a part of the urban agriculture movement in the heart of downtown San Diego! (Note, farm is temporarily closed due to COVID-19 and classes are taught in a remote format).
Pathways
Associates of Science Degree for transfer: Agriculture Plant Science
This degree is intended to meet the lower division requirements for agriculture plant science for all CSU campuses offering this degree.
Associates of Science Degree: Sustainable Urban Agriculture
This degree provides students with a foundation of general education and agriculture concepts in preparation for transfer to a 4-year university. With this associates degree students could expect to transfer and work towards degrees such as:
Sustainable Agriculture
Agricultural Plant Sciences
Sustainability
Agriculture Science
Food systems
Soil Science
Agriculture education
Certificate of Performance: Organic Gardening for the Culinary Arts (6 units) gives you a taste of the skills needed to work in urban farming as a profession.
Certificate of Achievement:
Urban Gardening (12 units) is for those who are interested in obtaining an agriculture-related job or developing a larger-scale home garden
Urban Farming Professional (30 units) was developed specifically for those who are preparing to establish and operate an urban farm-related business.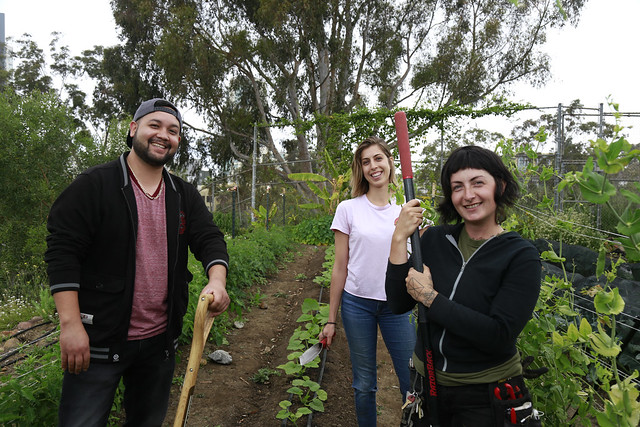 Student Learning Outcomes:
Understand and explain the three facets of sustainability (economic, environmental and social) both in general and as they apply specifically to landscaping practices.
Understand and explain the components of a food system.
Design an organic urban farm that supports natural ecosystems, human health, and water conservation.
Evaluate the soil food web.
Create a crop plan that is appropriate for the southwest region.
Identify plant disease and pests and incorporate integrated pest management and other organic strategies for a resilient food system.
Demonstrate basic propagation techniques.
Career Opportunities
The average age of US farmers is 59 years old. Over 50% of the world's population currently lives in cities. 15% of the world's food is currently grown in cities. According to UN projections, 2/3 of the world's population will be living in cities by 2030. We need more farmers to meet the growing need for food and to ensure local food security.
The USDA projects that "U.S. college graduates will find good employment opportunities if they have expertise in food, agriculture, renewable resources, or the environment. Between 2015 and 2020, we expect to see 57,900 average annual openings for graduates in these areas"

And, relevant to our program, among the priority occupations are:
Farmer
Crop Management Consultant
Organic crops grower
Precision Agriculture Specialist
Organic Agriculture Entrepreneur
Fruit and Vegetable grower
Restoration Forester
Seed Producer
Plant Scientist
Insect Biologist
Soil Scientist
For more information on USDA Agriculture and Food job projections through 2020 click here.
Need more info?
For Agriculture certificates and degrees contact:
Erin McConnell at emcconne@sdccd.edu