Tutoring is available on Canvas & On-Campus!
Spring 2022 Semester: Open Online starting February 7 @ 9am; Open On-Campus starting February 22
Online Hours: Monday - Wednesday 9AM-6PM, Thursday 9AM-8PM, Saturday 9AM-1PM
On-Campus Hours by appointment: Monday - Thursday 9:30AM-3:00PM
Regarding on-campus tutoring services, out of care and concern for the health and safety of the entire campus community, proof of vaccination is required as well as wearing masks while on-campus. If you do not have a mask, we can provide you one at any of the Student Services areas or designated Welcome Centers. For updated communications about COVID-19 please visit Coronavirus (COVID-19) Updates HERE
To make an on-campus appointment, enroll into the English Center on Canvas and speak with one of our front desk staff during our online open hours
Join for Free
If you have already joined the English Center on Canvas, use the following buttons:
Live Tutoring
Assignment Submission with Tutor Feedback
Quick Question Discussion Board Tutoring
Live Workshops
Student Resources
We tutor reading, writing, and critical thinking skills in all courses across the curriculum including history, AODS, psychology, philosophy, and ELAC.
Mission Statement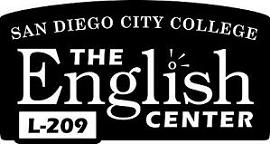 We provide a community-based learning environment to help City College students become more effective, confident and independent readers, writers and critical thinkers. In support of this mission, the English Center offers assistance for all disciplines through:
One-on-one peer tutoring sessions
Group tutoring
Supplemental instruction
Workshops for students and faculty
One-unit refresher courses
Orientations
Consultations for faculty
The opportunity for qualified students to gain experience as peer tutors and mentors
The English Center is dedicated to providing innovation in tutoring strategies, pedagogy, and quality training in all areas of tutoring, as well as ongoing collaboration with faculty, staff, administration, and other tutorial/learning centers.
Get help with all your studies!

English Center

Spring 2022 Hours of Operation

Online Hours (Starting Feb. 7):
Monday through Wednesday, 9am-6pm,
Thursday 9am-8pm,
Saturday 9am-1pm

On-Campus Hours by Appointment (starting Feb. 22):
Monday through Thursday, 9:30am-3:00pm

Location
San Diego City College
L Building
Room L-209
Map and Campus Information

- Achieve your academic goals at the

Tutorial / Learning Center




Library




Math Center
Contact Us
L-209 (L Building)
Front Desk: (619) 388-3633
Fax: (619) 388-3433
ecfrontdesk@gmail.com
Michelle Chan
Professor, English
English Center Coordinator
(619) 388-3261
mchan001@sdccd.edu

Gavin Brown
Adjunct Professor, English
English Center Supervisor
Online Coordinator
Workshop Coordinator
Program Development
Wendy Castellanos
Senior Tutor
Tutor Training
Program Development
We are CRLA Certified!