Written by: Paula Miranda, Professional Development Coordinator
Hello, everyone! In an attempt to better track, document, and archive communications coming from my office, as well as to free up space in all of our inboxes, I have decided to post professional development and instructional improvement (Flex) updates on the website. You will now see a link called "Updates" in the sub-navigation menu to your left, which will take you to a landing page that will contain links to each monthly update.
My goal is to post at least one per month to announce new workshops, programs, and to highlight professional development activities being coordinated for and throughout the campus. Similar to a blog, the format I have chosen is loose and informal. As always, I welcome your input for how to improve upon this communication strategy.
In this update:
---
We continue to get reports from faculty who are still unable to log into the Flex system. The District Campus Solutions Team deployed a fix on August 15, but issues persist.
To help alleviate the impact, we have postdated all Flex activities through the end of the semester so that faculty who have experienced login issues can still register and mark themselves attended once their access is restored. (A special thanks to Angela Testado for coming up with this workaround!)
We will continue to forward reports of login issues to the District IT Help Desk (ithelp@sdccd.edu) as well as the Campus Solutions Support Team (myhelp@sdccd.edu).
As a reminder, the Flex system underwent a backend reconfiguration in July 2019 as part of the Campus Solutions transition. While the interface and functionality remain relatively unchanged, the login url is now https://faculty.sdccd.edu/psfacflex/, which can also be accessed from the Faculty Quicklinks panel on the College Faculty Dashboard in Campus Solutions. The other change for Faculty to be aware of is that your login ID and password will be the same as what you use to log into the mySDCCD portal (aka Campus Solutions, PeopleSoft).
---
Applications to participate in the 2019-2020 cohort of the Career Pathways Institute are now open!
The Career Pathways Institute (CPI) is a year-long professional development program that provides City College employees the opportunity to learn or enhance existing workplace skills, and aims to foster an environment of collaboration and a sense of belonging throughout the campus. The program is coordinated by the Professional Development Office under the guidance of President Shabazz, with input by leadership from the Classified Senate and the Supervisory & Professional Administrators Association (SPAA). All City College employees are welcomed to apply and participate.
Participants are required to attend professional development workshops, then meet monthly as a group to discuss and reflect on various topics about career advancement and leadership in higher education. More information on program components and estimated time committments available on the Career Pathways Institute webpage.
---

The "Pathways to Inclusive Leadership" professional development series provides innovative leadership skill development opportunities for City College employees to enhance self-awareness skills and foster personal development and professional growth. Being culturally competent and able to effectively build trust and lead inclusively are essential skills to promote a culture of caring and provide the ultimate student experience.
NOTE: These workshops are required for Career Pathways Institute participants.
Click here (or the image above) to view the flyer, which includes workshop description, dates, times, and locations.
Sep 20: Cultural Competency Leadership Development
Oct 25: Working Across Five Generations in the Workplace
Jan 31: Building Trust for High Performing Teams
Mar 20: Managing Our Unconscious Biases in the Workplace
---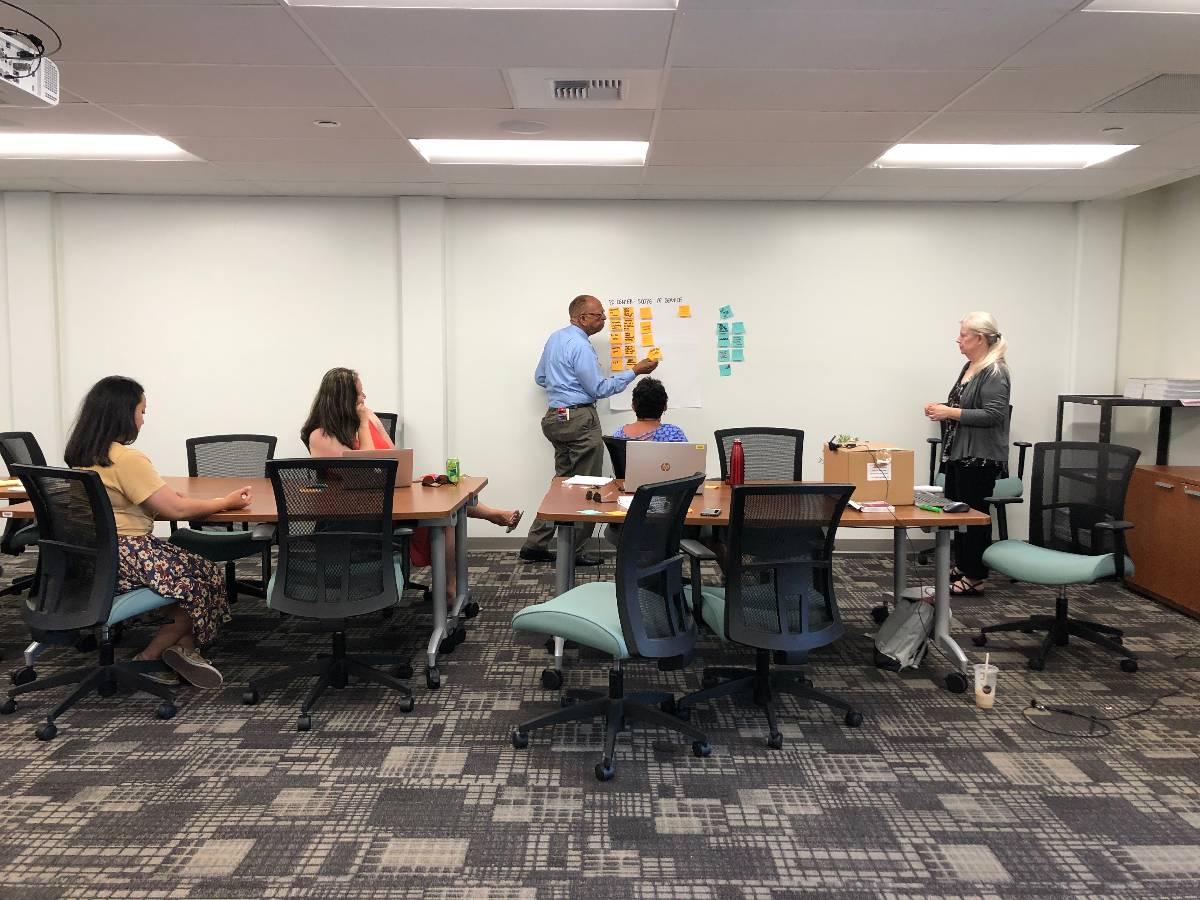 Members of the PD Advisory Committee discuss activities within and outside of the scope of the center, July 2019.
Planning is underway to open a yet-to-be-named professional development center (formerly referred to as the "Teaching and Learning Center") that is dedicated to supporting the professional development and growth of all campus employees by providing a space that fosters cross-disciplinary and cross-departmental collaborations, support professional learning networks, and the development of innovative new projects. It would be a place for all college employees to come together, develop robust working relationships, and gain essential training and learning experiences which foster high quality educational outcomes for students.
The spaces identified for this center are R-109 and R-116.

The Professional Development Advisory Committee is overseeing the planning of the center. We are currently in the project phase, which includes creating a service model and furnishing the rooms using overflow furniture. Our goals this semester are to make the spaces available for use, collect feedback, and make adjustments to the room and service model according to your feedback. More information will be shared once the spaces are available.
In the meantime, please refer to the Professional Development Center webpage to view the project charter and updates.
---
The 2019-2020 cohort of the New Hires Institute is underway! We have a great group of about 20 recently hired (or promoted) contract Classified Professionals, Faculty, and Supervisors who are now part of the City College family. If you see them, please say hello and welcome them to our campus!
Everyone is invited to attend the sessions. Please visit the webpage, New Hires Institute, to view our session dates, times, location, and agenda, or to learn more about the program.
---
For inquiries about this update, or for questions, concerns, or ideas regarding professional learning and development, please contact Paula Miranda.