Due to COVID-19 we have transitioned all our workshops to alternative modes of instruction, via online. Please see below for information on workshops that have been transitioned to online formats.
For general inquiries or information please email CityCounseling@sdccd.edu or call the Counseling Department at 619.894.6118

New Students - Select your first semester classes
If you're a new student to City College and need help selecting classes for your first semester, our New Student Education Planning workshop is for you!
Click here to start the workshop on Canvas, our learning management system. You don't have to login, just click on the "Welcome - Start Here" button to get started.
Please note: It is strongly recommended that you complete the New Student Online Orientation before you start this workshop.
You will also need your math and English milestone/placement scores, which are determined from your answers on the CCCApply application. To check your milestones, login to your mySDCCD portal and look for the "Milestones" link in the "My Success Path" widget on the College Student Dashboard: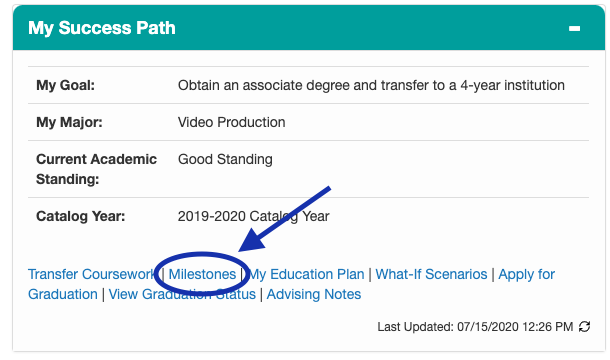 ---
*The workshops below are currently unavailable. We are in the process of transitioning them to remote formats. Please return to this website for updates. We appreciate your patience!
Academic Solutions Workshops (ASW)*
Designed for students who have been disqualified from attending City College and would like to learn key academic success principles and strategies; required for students who have been disqualified from attending City College for the first time and would like to be considered for re-admission. If you received an email informing you of your loss of Board of Governors Fee Waiver (BOGW) eligibility, this workshop will also provide with information on how to submit a Loss of BOGW/Enrollment Priority Petition, which requires that you meet with a Counselor and submit the petition to the Dean of Student Development by the following deadlines:
Deadline to submit BOGW Appeal Petition for Summer - JUNE
Deadline to submit BOGW Appeal Petition for Fall semester - OCTOBER
Deadline to submit BOGW Appeal Petition for Spring semester - MARCH
Financial Aid Appeal/Education Plan Workshop*
Life can get in the way sometimes and you may find yourself in a position to have to appeal your financial aid. Attend this workshop to learn what you need to be successful when you return to City and to complete the appeal petition.